"Search for properties available for your dates"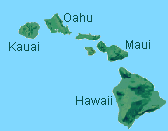 "All Major Credit Cards Accepted"






We know Hawaii best, it is all we do! Our extensive and current knowledge about vacation rentals throughout Hawaii allows you to make informed decisions about where to spend your time and money. We represent hotels and condo-resorts ranging from moderate to luxury.

Our website allows you to instantly check availability, discounted rates and to book online. Or call us toll-free at 1-888-722-6284. We provide excellent customer service and the lowest rates.

Click on the name of an island, (, , , or the ) for a list of recommended properties.


Welcome to the one website that shows you all the best Hawaii vacation rentals, including hotels and condo rentals on all of the islands of Hawaii...

---

Known as the "The Valley Isle" because its valley was formed between two volcanoes, Maui has been rated the best island in the world 12 years in a row by the readers of Conde Naste magazine. There are excellent beaches and water activities including swimming, snorkeling, surfing, scuba diving, parasailing, sailing and fishing. Maui is home to Lahaina, a historic 18th-century whaling port. Each year from January through April, humpback whales return to the warm shallow waters of Maui to give birth and nurse their young. One of our favorite Maui condos is where you can watch the whales from your private lanai. The is located on a section of Kaanapali Beach rated the best is the United States.


---

Known as "The Gathering Place" Oahu earns its name as a mecca for visitors and business people from East and West. Pearl Harbor and the USS Arizona; the Polynesian Cultural Center are must-see historical highlights. World famous Waikiki Beach plays host to the majority of vacationers; however, the island has much more to offer than that hustle and bustle! Beautiful golf courses, spectacular hiking trails, panoramic vistas, intriguing historical points of interest, museums, beautiful white sand beaches and many other treasures await those who explore beyond the boundaries of Waikiki. During winter months you can marvel at surfers riding 30 foot waves at renowned Sunset Beach.
We offer over 65 properties on Oahu including and . Our Waikiki condos include the moderate priced Aston Waikiki Sunset and the deluxe Aston Waikiki Beach Tower.


---

Known as "The Garden Island" Kauai is considered to be one of the most beautiful locations in the world. Lush green mountains, hundreds of waterfalls, and Waimea Canyon which is known as the Grand Canyon of the Pacific. The abundance of forested environment makes this a nature lovers paradise. You will find far fewer visitors than on Maui or Oahu. Kauai is a serene island with a multitude of spectacular beaches. However, many of the beaches are classified as nonswimming due to large waves and rip currents. in Poipu is the only condo property located directly on an excellent swimming beach. Next door is the . The is an outstanding property with huge pool, waterslides, salt water lagoon and ANARA Spa.


---

Known as "The Big Island", it is twice as large as all of the other major Hawaiian islands combined. At about 800,000 years old it is the youngest in the chain and is still growing.
The Hawaii Volcanos National Park contains one of the world's most active volcanos which continues to pour into the sea adding to the shoreline. From its snow capped peaks to its black and white sand beaches the island is really a study in contrasts. Rocky deserts and lush rain forests. Peaceful bays and rolling pasture land. Luxurious orchids and waterfalls on the windward side, and areas on the western slopes where the world famous Kona coffee is grown.
Our favorite vacation rentals include oceanfront condos such as and in the resort area by .